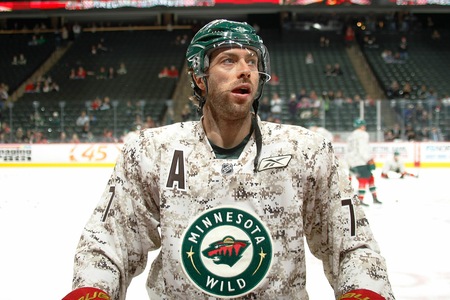 Matt Cullen wears a camouflage jersey before the Defending the Blue Line game in February 2011
Can't wait for the 2012-2013 season to start? Luckily, two of the Minnesota Wild players will be playing in another Defending the Blue Line charity game. On June 20th, Josh Harding and Nate Prosser will be playing at the Ridder Arena in Minneapolis. Not only will fellow NHL players be playing, but Gigi Marvin, the star female hockey player, is scheduled to play as well.
Last year several Wild players participated in a Defending the Blue Line charity game in February, so it's a nice surprise that there will be another charity game. (And another game with Wild players)
Defending the Blue Line is a Minnesota-based charity for soldier's children to have the opportunity to play hockey and is endorsed by several teams in the NHL.